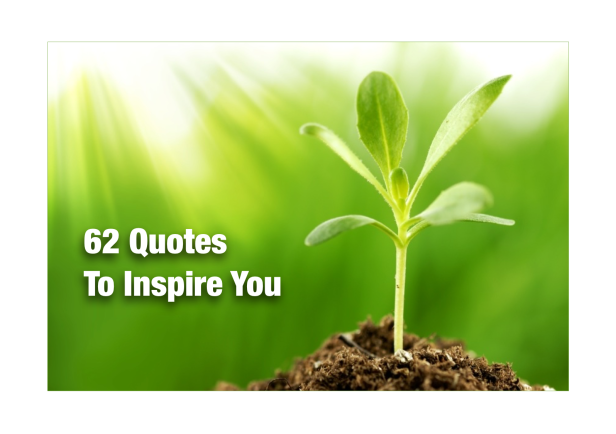 The two most important days in your life are the day you are born and the day you find out why
Life is about making an impact, not making an income
Whatever the mind of man can conceive of and believe, it can achieve!
You miss 100% of the shots you don't take
Definiteness of purpose is the starting point of all achievement
Life isn't about getting and having, it's about giving and being
We become what we think about
Life is 10% what happens to me and 90% of how I react to it
Your time is limited, so don't waste it living someone else's life
Don't be a product of your circumstances. Be a product of your decisions!
I've learned that people will forget what you said and people will forget what you did, but people will never forget how you made them feel
Believe you can and you're halfway there
Everything you've ever wanted is on the other side of fear
How wonderful it is that nobody need wait a single moment before starting to improve the world
We must believe that we were given our gifts for some reason, and that this, whatever the cost, we must be attain!
Too many of us are not living our dreams because we are living our fears
A person who never made a mistake never tried anything new
It is not what you do for your children, but what you have taught them to do for themselves, that will make them successful human beings
If you want your children to turn out well, spend twice as much time with them and half as much money
Build your own dreams, or someone else will hire you to build theirs
Education costs money. But then so does ignorance
You can't use up creativity. The more you use, the more you get
Dream big and dare to fail
If you do what you've always done, you'll get what you've always gotten
It's not the years in your life that count. It's the life in your years
Change your thoughts and you change your world
The only way to do great work is to love what you do
If you can dream it, you can achieve it
What lies behind us and what lies before us are small matters compared to what lies within us
Remember: You are awesome! (G-d doesn't make rubbish!)
The definition of success: Someone that gets up when they fall, dusts themselves off and continues to try to be the person that they know that can be
Be the change you wish to see in the world
Be what you wish your child to be
G-d give me serenity to accept the things that I cannot change, courage to change the things that I can and wisdom to know the difference
We are what we repeatedly do. Excellence is not an act but a habit
See the best in yourself and others
Goals are dreams with deadlines
The best and most beautiful things in the world cannot be seen or even touched, they must be felt with the heart
Whether you think you can or you cant – you're right!
You are a success if you only try!
A house is made of walls and beams, a home is made of love and dreams
Be yourself. Everyone else is taken!
Love, love, love, love, love, love, love, love, love, love, love, love, love, love!
The state of your life is nothing more than a reflection of your state of mind
Live as if you were to die tomorrow. Learn as if you were to live forever
When we get into the habit of truly paying attention to life, we often find that miracles are all around us. They are simply every day occurrences seen more clearly
Life is mostly froth and bubble, two things stand out, however, like large rocks jutting out of a stream: kindness in another's trouble, courage in your own
Time is the coin of your life. It is the only coin you have, and only you can determine how it will be spent. Be careful lest you let other people spend it for you
Life is the sum of your choices
Don't be afraid that your life will end; be afraid that it will never begin
The game of life is the game of boomerangs. Our thoughts, deeds, and words return to us sooner or later, with astounding accuracy
Start living now. Stop saving the good china for that special occasion. Stop withholding your love until that special person materializes. Every day you are alive is a special occasion
If you keep on doing what you've always done, you'll keep on getting what you've always got
Friendship isn't a big thing – it's a million little things!
You were born an original. Don't die a copy!
You will never win if you never begin
Failing to plan means planning to fail. What are your goals?
The most important thing a father can do for his children is to love their mother
We learn from history that we learn nothing from history
One father is more than a hundred schoolmasters
A wise man will make more opportunities than he finds
What you have been given is G-d's gift to you. What you become is your gift to G-d
---
Take one of the above quotes. One that inspired you a lot. And say it over to yourself. Then let it reverberate around in your mind, flow through you and move you to where you need to go!